How do I Recover Data That I've Deleted from My Android Device
Nothing can be more frustrating than to accidentally delete something very important from an Android device. Even though the touch technology has made our lives really easy, but the smoothness and convenience of the technology also makes us sometimes accidentally touch places on screens where we didn't intend to. It is common to accidentally delete or lose data from an Android device and therefore it was only time before many people came out with solutions for this. Dr.Fone Android Data Recovery is a fantastic application which is capable of recovering not only photos, videos but also other media such as messages, contacts etc. It has a very easy-to-use interface so many people can learn to use it without a hassle. There are only three basic steps to follow on this software; scan it all, preview it all and then recover!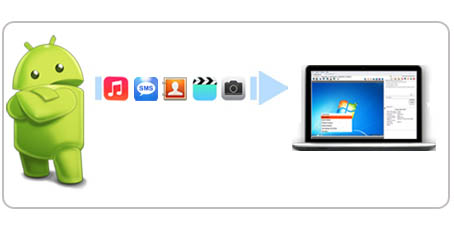 The primary feature of Dr.Fone for Android includes directly scanning and recovering SMS, videos, photos and contacts. It will scan your device automatically after you connect it with the computer. It will then recover sent & received messages, export in HTML to PC for easy reading and printing, it will retrieve deleted contacts including numbers, and export in HTML, CSV to PC. It will also retrieve photos and videos from SD cards inside the Android devices to your computer. You will be able to browse, backup as well as re-sync data on your computer. All your existing data as well as deleted data will have separate colors in the scan result so that you could easily identify them. Therefore, you can browse them and backup from your device on the computer. It will give you a preview of all the contacts that you can recover by making a selection from the preview.
There are several reasons why you should use Dr.Fone Android Data Recovery. You can accidentally lose data at any time and in such points you need to have a solution ready for you so that you don't panic nor stress out. It is convenient to use and has an easy interface and you could always use the help tool to get more information. Another important trend to notice is the fact that more and more professionals are saving their important data on the Android Devices therefore, a solution on how to recover data from Android device must be present at all times. There are 4 basic steps you need to follow when you want to recover lost data like messages, photos, videos or contacts from your Android device.
Step 1: Download and install Dr.Fone Android Data Recovery
Step 2: Launch the Program and Connect Android Device to PC
Launch Wondershare Dr.Fone for Android and make sure the first mode that is "Android Data Recover" is selected. Once you see the primary window open, connect your Android device to computer using a USB cable.

Note: In case you want recover the data that was on the memory card of your Android device, you can select the 2nd mode of this program which is "Android SD Card Data Recovery".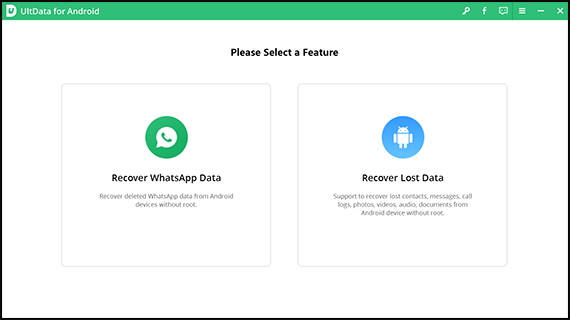 Step 3: Enable USB Debugging
In case you did not enable USB debugging on the device, you will find another window open. You can follow the detailed instructions given on the window to enable USB debugging on your android device as per the Android version you're using. For example, if you're using Android 4.2 or later version (Jelly Bean, KitKat or Lollipop), tap "Settings" > click "About Phone" > tap "Build number" for about 7 times until getting the note "You are under developer mode". Go back to "Settings" > click "Developer options" > check "USB debugging".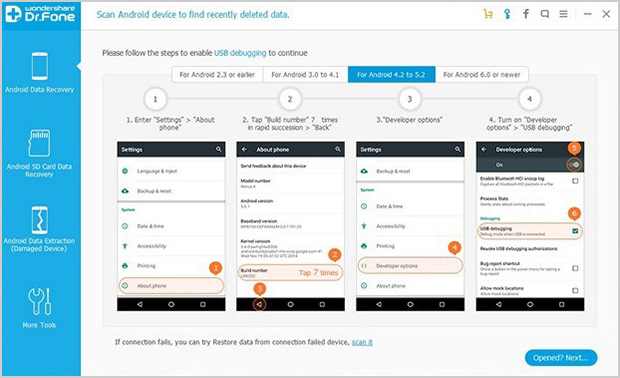 Step 4: Choose the File Type and Scan Mode
In order to save your time and shorten the scanning process, you will be asked to select the file type you want to recover as soon as you hit the "Next" button. If you want to recover only deleted photos, you should only check "Gallary" checkbox.
In the end, choose the standard or advance mode. Depending on your choice, standard mode will allow you to scan only for deleted files or all files available on your device. Standard mode scans the data much faster than the advanced mode. If standard mode fails to find deleted files, restart the program and use the advance mode which will deeply scan your Android device for deleted data.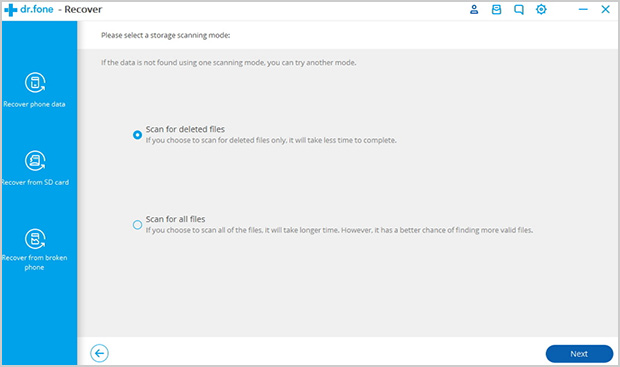 Note: If you're using a rooted Android device, you will have to allow the program Superuser authorization before the scanning process by clicking "Allow" button when the message pops up on your device's screen.
Step 5: Preview and Recover
The scanning of the data will take some time. Once that is done you will be able to see all the data that you can recover. Once you have previewed the data and selected the one that you want to recover, you can select them and click "Recover". The program will begin recovering the data and save them on your computer in a designated folder. The deleted SMS or contacts will be shown in red color. You can save the contacts in CSV, vCard or HTML format.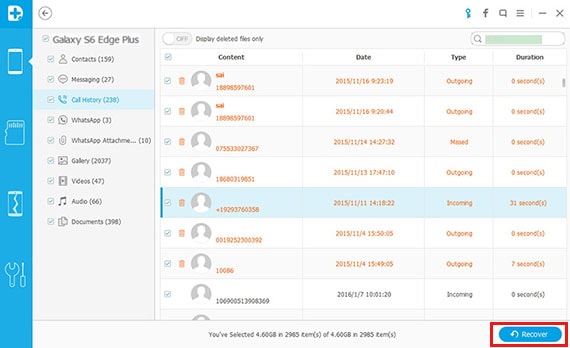 This program will always be the answer when you want to know how to recover lost data from Android phone.
Download Dr.Fone Android Data Recovery