SafeEraser for iOS

About iOS Data Erasing Software Called SafeEraser
SafeEraser for iOS clever little program has been purposefully designed to make sure that you can delete iPhone data permanently, but it also works on other iOS devices, such as an iPad or an iPod Touch. You no longer have to panic that a stranger could read those messages, see those personal pictures because you can rest easy knowing that they have been permanently deleted. In short, it's a perfect tool if you're planning to sell your old iOS device, give away to your friend or relative, trade-in for another device, or for any other reason you want to permanently delete your iPhone/iPad/iPod Touch data.
Why Should I get SafeEraser for iOS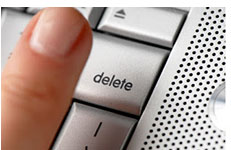 One of the greatest strengths of the iOS system is also one of its greatest weaknesses. It is almost impossible to permanently delete data from iPad or iPhones, which is great if you accidentally delete that hilarious photograph of your sister – but is an absolute disaster if you then want to pass your iPod Touch or iPhone on to someone else. Try as you might, there will almost always be a way to retrieve your emails, log in details for websites, and that ridiculous photograph your sister took of you.
| | |
| --- | --- |
| | |
Unfortunately, there are also much more serious consequences for you than someone seeing a terrible photograph of you if someone else manages to get their hands on your personal data. All they will need to do is get a photograph of you, your email address, and access to some of the passwords that you used while you were browsing on your iPad or iPhone, and all of a sudden they can pretend to be you, completely stealing your identity. This can be an incredibly frightening experience, especially if they start to do things like take out loans in your name, and then default on them. You could end up with some very unpleasant people waiting outside your door, and strange questions being asked at work. That is the very last thing that you want, but it is often an unforeseen consequence of someone not permanently deleting data from Apple devices.
So what can you do – is there anything that will permanently erase data from iPhone? Go download SafeEraser for iOS right now!
Key Features of SafeEraser for iOS
Permanently Wipe Data from Your iOS Device
You can wipe absolutely all of your data – even the bits that you didn't realize was data. That means that not only your contacts will disappear, but your apps, your photographs, your text messages, and even the passwords that you have used whilst browsing the internet.
Permanently Erase Deleted Files on iPhone/iPad/iPod Touch
Text messages, photos, and other important personal data can't be completely removed from your iOS device just by hitting the 'Delete' button. So you can use SafeEraser to permanently delete all the content from your iOS device, including the already deleted files.
Clear Private Data
This program can also help you if you want to clear private data from your iOS device such as browsing history, download history, cookies, saved passwords, recent tabs etc.
Works on any iOS Device
iPhone? No problem. iPad? No problem. Everything is so much simpler when everything talks to each other.
Prevents Identity Theft
One of the biggest problems with passing your iPhone on, or selling it to someone else, is that they may be able to retrieve your data, and then use that to impersonate you. Before you know it, your credit rating is down, and you have strange letters and emails coming through. This little program will completely remove that potential outcome.
Support multiple iOS versions
This program works perfectly with iOS 5, iOS 6, iOS 7, iOS 8 and the new iOS 9.
Minimum System Requirements
| | |
| --- | --- |
| OS (32&64 bits) | Windows XP, Windows Vista, Windows 7, Windows 8/8.1, Windows 10 |
| Processor | 750MHz Intel or AMD, or above |
| Free HD Space | 1 GB or more disk space for installation |
| RAM | 512 MB or above |

Supported iOS Devices

 

| | |
| --- | --- |
| iPhone | iPhone 3GS, iPhone 4, iPhone 4s, iPhone 5, iPhone 5c/5s, iPhone 6/6 Plus, iPhone 6s/6s Plus |
| iPad | iPad, iPad 2, iPad 3, iPad 4, iPad Mini, iPad Mini 2, iPad Air, iPad Mini 3, iPad Air 2, iPad Mini 4 |
| iPod | iPod touch 6, iPod touch 5, iPod touch 4, iPod touch 3 |