How to Retrieve Accidently Deleted SMS Messages/iMessages from an iPhone
If you are an iPhone user who likes to send and receive text messages, chances are pretty good that you've suffered from the loss of an important iPhone SMS message at one time or another. Whether you accidentally deleted a message you didn't want to erase, your SMS messages got erased after iTunes sync, you lost your iPhone, or your iPhone broke; there is not a worse feeling than the one that overwhelms you when you discover that you have lost an important text message.
Most iPhone users are forced to face the reality that what is done is done and what is lost is lost. They firmly believe that there is nothing they can do to recover the message and must accept the loss. Fortunately, technology is a very amazing thing and the iPhone is certainly no exception. Just because something is erased or deleted from a piece of technology, it does not necessarily mean it is completely gone. In fact, most people do not realize that deleting data or a file to where it cannot be recovered is not an easy task.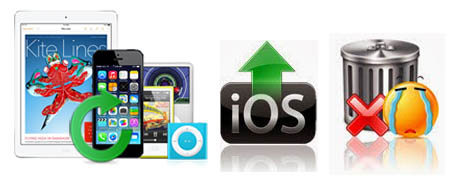 There are actually three different methods for extracting your lost iPhone text messages. The first method requires recovering them directly from the device. Obviously, you would only be able to use this method if you had the device and it was in working order. The other methods are for individuals who have lost their iPhone or it is damaged beyond use. These methods involve using the iTunes and iCloud backup to recover the lost SMS messages. Before proceeding you must first download Dr.Fone iOS Recovery Program:
After downloading this toolkit on your PC or Mac, launch it and select the "Data Recovery" mode as shown in the picture below: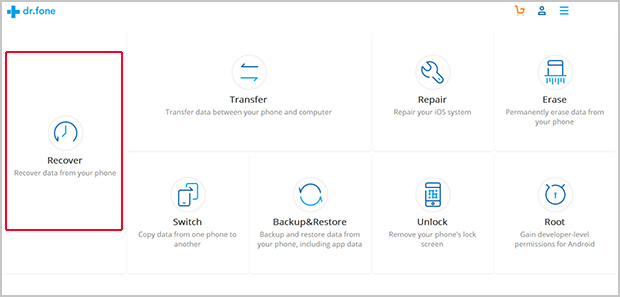 Method 1: Recovering iPhone Text Messages or iMessages Directly from the Device
Step 1: Connecting your Apple iPhone to your computer
First of all, you are going to have to connect your iPhone to your computer and select 'Recover from iOS Device' option. The software interface should pop up on your screen at this point.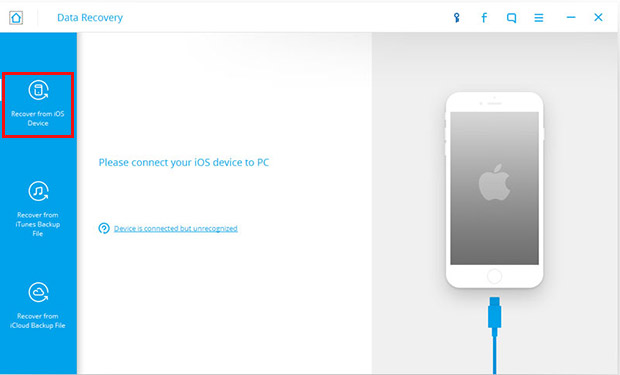 Step 2: Set your Apple iPhone to DFU mode and scan it
Before you are going to be able to scan your iPhone for the deleted text messages, you are going to have to put it into DFU mode. First, you are going to have to click on the start button. Then, you are going to hold down the power button and the home button at the same time for ten seconds. Finally, you will release the power button and continue to press the home button for an additional ten seconds. Once you complete these steps a message should pop up informing you that you've entered DFU mode. Once your iPhone enters DFU mode the program is automatically going to start scanning it.
Note: iPhone 4S/5/5C/5S/6/6 Plus/6s/6s Plus/7/7 Plus users can skip this step and directly click the "Start Scan" button.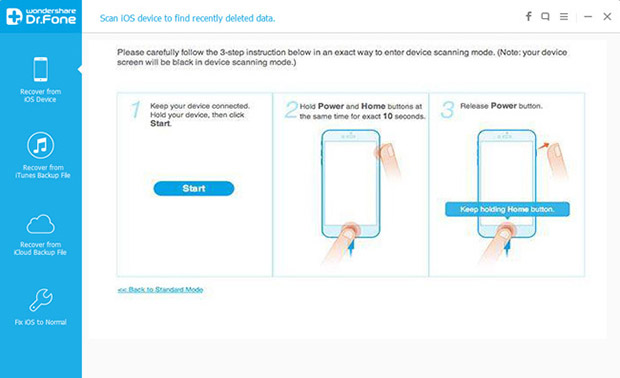 Step 3: Preview and select data for recovery
Once the scan is complete you will be able to see a preview of all of the files it was able to find. You can select messages to view the recovered text messages. Then, you can select which text messages you want to restore and click the "Recover to Device/Computer" button. Keep in mind, you are going to have to refine the scan on the software to search for data that has been deleted on the iPhone. Otherwise, it is just going to pull up data presently on the phone.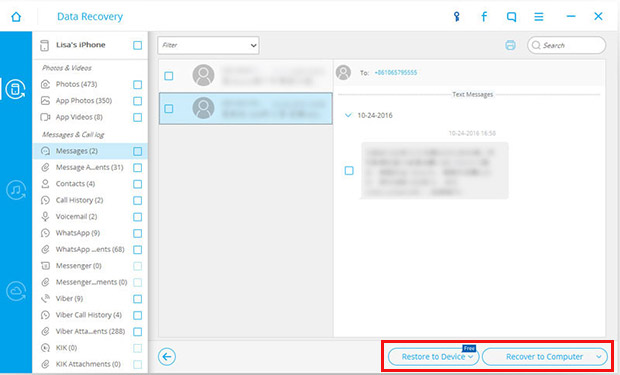 Method 2: Scan and Extract from iTunes Backup
Step 1: Scan the iTunes backup on your device
Once you open the iOS recovery software, you are going to want to navigate to the "Recover from iTunes Backup File" menu. After that, an interface is going to pop up for you to follow. It will display all of the iTunes backup files that it has found and you can select the one for your device and then select the start scan button.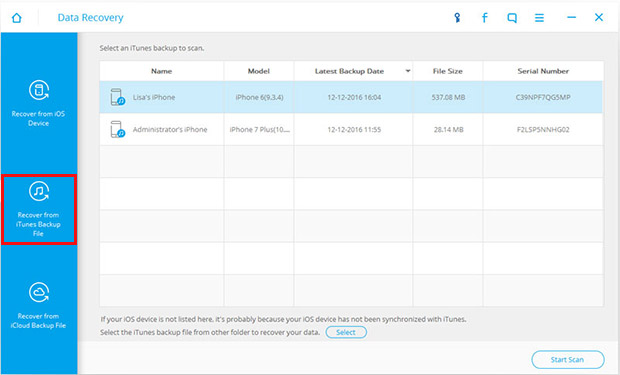 Step 2: Preview and recover your text messages
Very much like extracting directly from your device, the software is going to give you the option of previewing all of the files and data it was able to recover. You can select the message category and choose the text messages you want to restore. Then, you just have to click the recover button to recover them.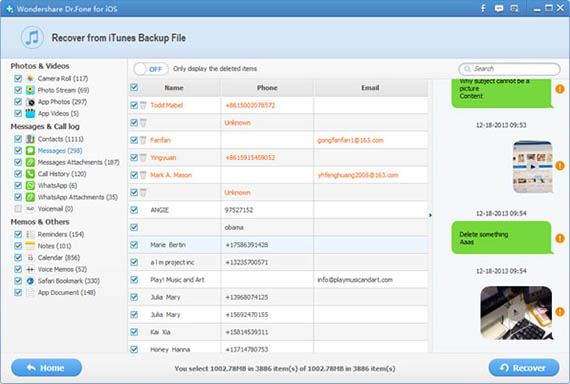 Method 3: Recover Lost SMS from iCloud Backup
This recovery mode will allow a person to scan the iCloud backup to find the deleted text messages. You just need to login to your iCloud and scan the iCloud backup file for the deleted text messages.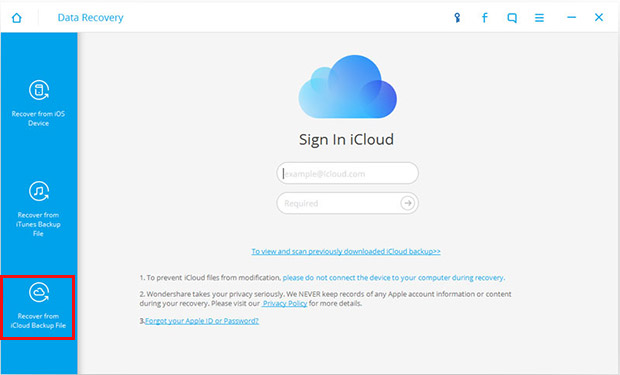 Download Dr.Fone iOS Data Recovery Free