MobileTrans Tool

A Revolution in Transferring Smartphone Data with MobileTrans
The best things in life are those rare products that make life simpler. Facebook made communication between people and keeping up to date with their social lives easier. The cell phone made communication on the go a reality we all take for granted today. MobileTrans tool makes the next big step in technology by providing the incredibly helpful service of making data transfer (from one phone to another) simple.
Have you ever wanted to transfer data from iOS (iPhone/iPad/iPod touch) to Android, transfer data from BlackBerry to iPhone or Android, or transfer data from Android to iPhone and other iOS devices? Regardless of your beginning and end smart phones, MobileTrans creates an interface that will make it possible. No longer will you have to lose data when switching phones or providers. See how it works!
So, Why Bother Using MobileTrans Tool?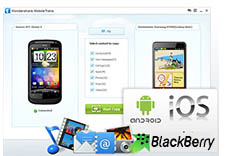 Simply put, MobileTrans makes life easier. It makes switching from one phone to another a breeze, instead of an all day affair. A clear and easy to use interface makes transferring everything from sms, contacts, videos and music easy and simple. All you need to do is select what you want to transfer, start the process, and sit back while the app does the rest. The time it takes will depend on what you are transferring, and can range from a minute or so with 1,000+ texts to up to an hour when transferring an extensive photo library. Regardless, the quality on the other end will be just as good as from its original source.
| | |
| --- | --- |
| | |
Able to communicate across multiple operating systems, MobileTrans will save you countless hours transferring information over manually. In addition, it reduces the risk you will lose something from having to come back to over and over again to start downloads. The smart software will also work with you to debug any problems that may result from the transfers, including things like enabling USB debugging mode on android phones.
One notable feature of MobileTrans is that it makes upgrading phones much easier. This is especially true when it comes to updating multiple phones across a number of operating systems. With your information stored and linked between devices, keeping each mobile device up to date is a breeze. In addition, its low cost and limited free purchase options mean that MobileTrans will be there for you when you need it. If time really is money, then you will save a lot with a simple one-time purchase. 
Some Notable Features Provided by MobileTrans Program
Supports 2,000+ Devices
Supports 2,000+ devices from Apple, Samsung, HTC, BlackBerry, Sony, Google, Nokia, and more…
Support Cross-Platform Transfer
Supports cross-platform transfers including iOS (iPhone/iPad/iPod touch) to Android, Android to iOS, and BlackBerry to iPhone or Android.
Transfer Contacts, Text Messages, Music and More
Transfer text messages, call logs, contacts, apps, music and videos, photos, and much more from one phone to another.
100% Risk Free Data Transfer
100% risk free and you can maintain improved quality of your data.
Multi-Language Support
MobileTrans tool supports English, German, Spanish, French, Italian, Japanese, and Simplified and Traditional Chinese.
Minimum System Requirements
| | |
| --- | --- |
| OS (32&64 bits) | Windows XP (SP2 or later), Windows Vista, Windows 7, Windows 8/8.1, Windows 10 |
| Processor | 750MHz Intel or AMD, or above |
| Free HD Space | 1 GB or more disk space for installation |
| RAM | 256 MB or above |

Supported Devices

 

| | |
| --- | --- |
| iOS | iOS 5, iOS 6 and iOS 7, iOS 8, iOS 9, iOS 10 (all versions) |
| Android | Android 2.1 to Android 7.x |
| BlackBerry | BlackBerry OS 10 and earlier |