How to Transfer WhatsApp Chat History/Messages from iPhone to Android
For many technology analysts, the time of the iPhone is coming to an end. This would have been almost impossible to predict a few years ago, as it seemed as though the Apple Inc. can completely and irrevocably taken over the smart phone industry. No one could imagine living without a smart phone, and no one could imagine a better operating system than the one that Apple created for its own iPhone range which is known as iOS. But in the last few years, one great challenger has emerged – and it is called Android. There are many different advantages that the Android operating system has over the Apple iOS, but when it all comes down to it, the reason that so many people are deciding against replacing their Apple iPhone with another different Apple iPhone is because they can have the Android operating system on any other phone that they want.
With that wide array of choice comes a difficult decision – but it is definitely not as difficult as trying to transfer your WhatsApp chat history and messages from your old iPhone to your new Android device. No matter what you see to think up, it appears to be completely impossible, and that will annoy many people. That is because WhatsApp has totally transformed the way that we communicate with people, and some of those messages will hold very dear and very precious conversations that we have had with loved ones. You do not want to lose them just because you have moved from one operating system to another, and yet you have no other choice . . . right?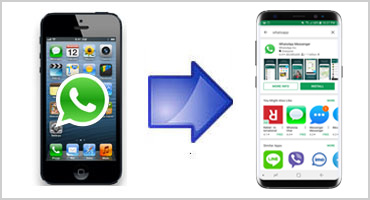 Wrong. You actually have a huge amount of choice, and that is because there is a very simple method that you can use to transfer your WhatsApp messages from your iPhone to your new shiny Android device. Just one simple program is needed, and once it is installed on your computer it is absolutely child's play to move them across. Don't believe us? Read the clear and concise set of instructions for yourself, and then marvel at the way that technology continues to move on with the times:
Step 1: Prepare Your iPhone and Android device for transfer
First things first – you need to prepare everything for the transfer. That means that you will need to ensure that you have iTunes 11 or later on your computer so that your iPhone will be able to talk to it successfully. It is also a good idea to ensure that you have already downloaded the WhatsApp application onto your Android phone, so that it is also ready for the transfer.
Note: You might also need to enable USB debugging on your Android. To do this go to "Settings", tap "About Device", tap on the "Build Number" 7 times to unlock developer mode and then again go to Settings > More > Developer Options and enable USB debugging.
Step 2: Install and then launch the program on your PC or Mac
Now you will need to install the computer program called iPhone WhatsApp to Android Transfer on your computer. It will take a little while to install, and once it has done, you should open up the program and run it.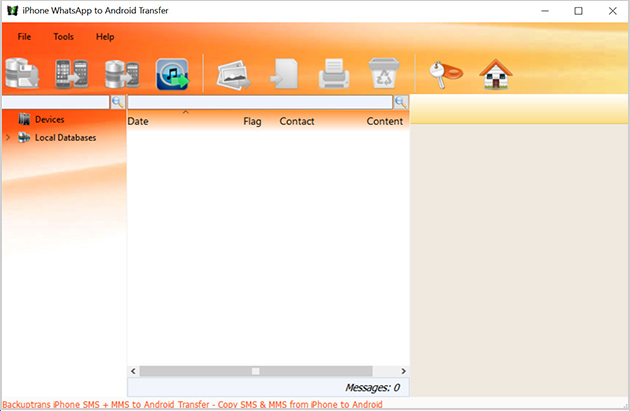 Step 3: Connect your iPhone and Android to computer
Get both your old iPhone and your new Android phone, whatever it is, and connect both of them to your computer using USB cables. Wait for both of them to register on your computer. You may find that your Android phone asks you a strange message, but as long as you click 'Back up my data' you cannot really go wrong. Now the program will look through your phones, and find all of the WhatsApp data and conversations that are on there – and then display them. Again, this may take a little while, so just let the program run without getting worried that it may or may not be working.
What to do if you have single SIM for both iPhone and Android?
If you have only single SIM card for both your Android and iPhone then you can remove the SIM from your iPhone and insert it on your Android device to verify your phone number on your Android device. But DO NOT uninstall the WhatsApp app from your iPhone.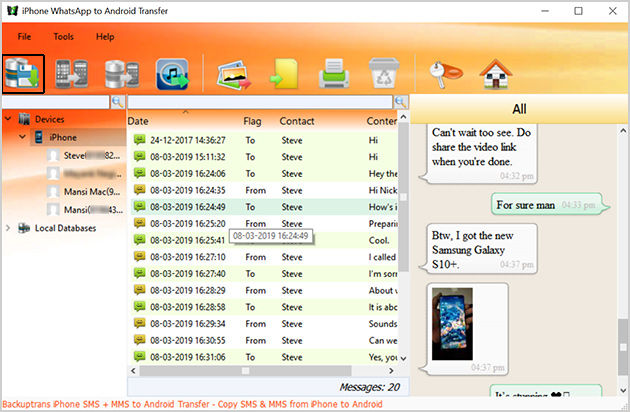 Step 4: Transfer all the WhatsApp messages from iPhone to Android
If you want to transfer absolutely all of your WhatsApp messages from your iPhone to your Android phone, then click on the iPhone where it appears in the devices list. Then you should choose the option 'Transfer Messages from iPhone to Android' on the top tool bar in the program. If it is not there, then go to 'File', and it should be there.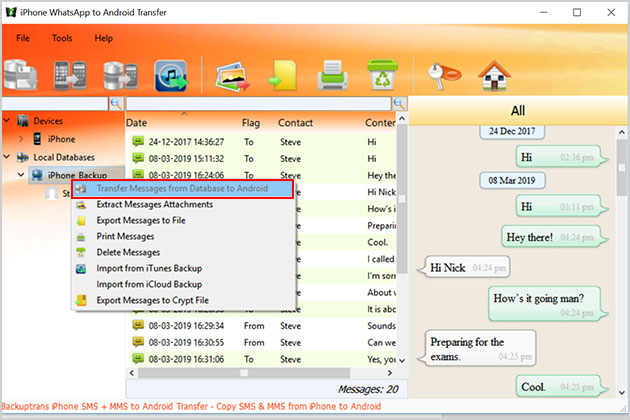 Step 5: Transfer selected WhatsApp messages from iPhone to Android
On the other hand, if you only want to move the WhatsApp messages from a particular contact or a particular conversation from your iPhone to your Android device, then you will need to do it slightly differently. First, click on the contact name or the conversation as it appears in the Backuptrans iPhone WhatsApp Transfer program. Then you will need to click on 'Transfer Messages from iPhone to Android'. Again, if it is not there, try looking under 'File'.
Step 6: Select the Android device you want to transfer messages
Last but by no means least, you should click on your Android phone to let the program know that that is the Android phone that you want to send you WhatsApp conversations to. This should be simple, as you should only have one Android phone connected to your computer. Now click 'Confirm'!
Video Tutorial: How to Transfer iPhone WhatsApp Conversations to Android