How to Recover Lost or Accidentally Deleted Data from iOS Devices on Mac
Apple users quite often accidentally delete and lose data. That can happen in a variety of ways, such as breaking your Apple device, touched the delete icon accidentally, or tried to jailbreak and your iOS device crashed – all leading to you losing your data. However, you do not have to panic when you lose your data; now you can easily recover your data from any iOS device by following the simple steps in the process. With Dr.Fone iOS Recovery for Mac you will be able to recover data for your iPhone, iPad and iPad Touch on Mac. Once you follow the steps, you will be able to retrieve and recover contacts, SMS, notes, photos, videos and more with ease.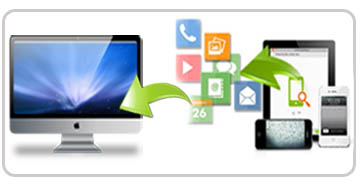 A lot of users do not know the correct methods of recovering their data. They simply type in how to recover lost data from iPhone on Mac but do not come up with the desired results. In fact it is quite easy to recover the data with a little research from not only your iPhone but all other iOS devices that you may have. This method is safe and guaranteed because it has been tried and tested. All your deleted files are basically stored in your device's database until and unless new content is added. Therefore, until that time, your data is recoverable. You can recover up to 12 different types of files. You just need to download Dr.Fone iOS Data Recovery for Mac and follow the following methods to get your iOS device data back.

Method 1: Recover Data Directly from iOS Devices
Step 1: Connect your iPhone to your Mac & select recovery mode
Connect iPhone to your PC with a USB cable. All Apple devices come with USB cables and you can use yours to do this. Next, launch the iOS Data Recovery on your Mac. The main interface will come up for the program and you can then select "Recover from iOS Device."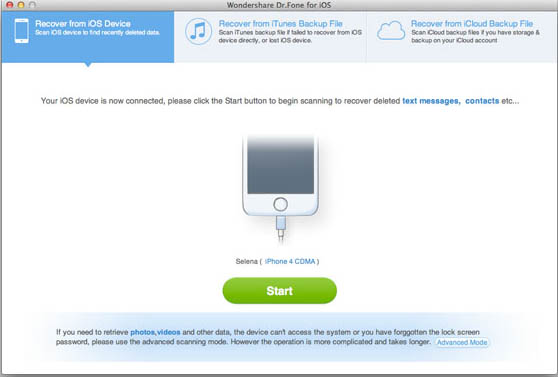 Step 2: Enter DFU mode
DFU mode is a special type of mode of the iOS device from which you can easily load data into the program. In order to set your iPhone to the DFU mode, click "start" to access iPhone DFU mode. Next, hold down the "home" and "power" together for 10 seconds. Release the "power" button but keep pressing the "Home" button for 15 more seconds.
Note: iPhone 4S/5/5C/5S, iPod Touch 5, iPad 2/3/4/Mini users can skip this step and move to the Step 3.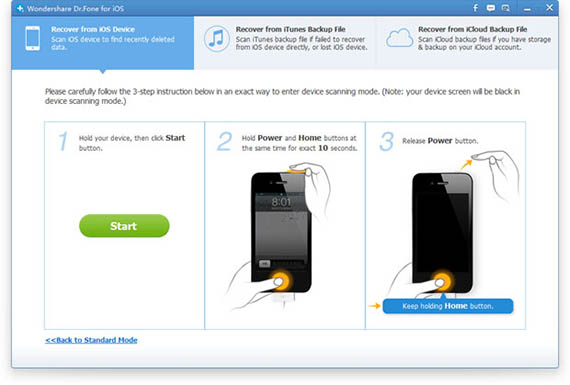 Step 3: Preview and recover data from your iOS device
Click the "Start Scan" button to start scanning your device. You will see that all scanned files are listed on the program in their categories. Click "Recover" after you have checked the files. After a few minutes you can see your recovered files on the computer.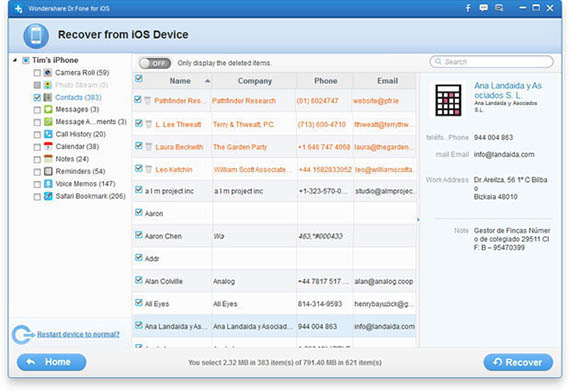 Method 2: Recover Data from iTunes Backup File
If you have a backed up iPhone with iTunes on your PC then you can use that to recover your data. Follow the steps:
Step 1: Select recovery mode and select iTunes backup
You will have to run the iOS Data Recovery for Mac and then select "Recover Data from iTunes Backup File." The program will detect all backups and will show them on the program's main interface. You can select the one you need and click "Start Scan" in order to proceed. Then preview all the deleted and lost files on your iTunes backup according to their categories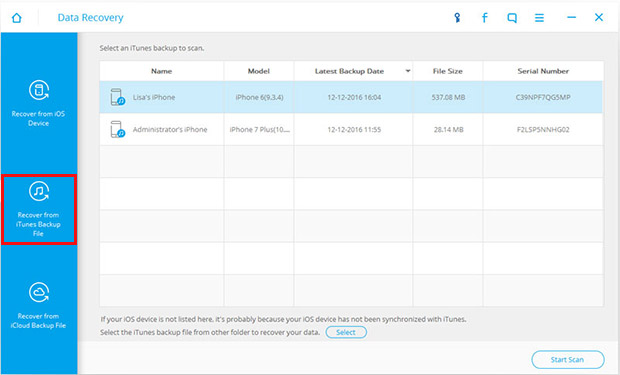 Step 2: Restore iOS data from iTunes backup
You can select specific files that you want to recover from the displayed ones. These can be your messages, photos, videos, notes, etc. Once you have selected, you can retrieve them onto your PC.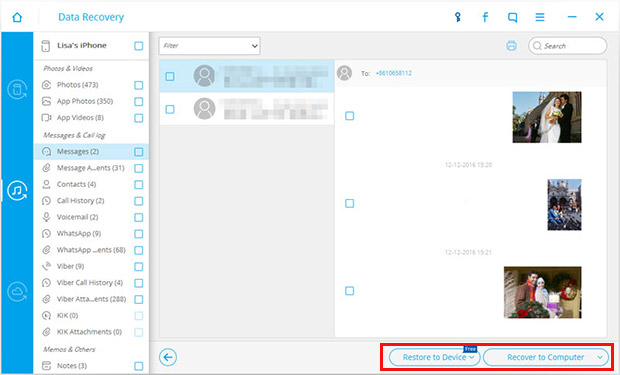 Method 3: Recover Lost Data from iCloud Backup
If you couldn't retrieve data directly from your device then this recovery method is suitable for you. This recovery mode allows you to scan your iCloud backup data one by one and selectively save files to your Mac according to your need.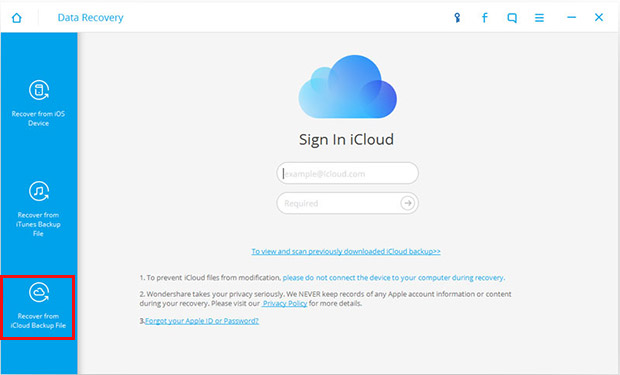 These three options can help you recover all your lost data on any iOS device. If you learn these three options, you will never have to panic again about losing your data from your Apple device in the future.
Download iOS Data Recovery for Mac Free