iPhone SMS Transfer Tool

Introduction
When we receive particularly important, or heartwarming SMS text messages, the last thing that we would ever want to do is to lose them. But so often technology fails us, and we stare in horror at the blankness on the screen. Just like our most vital documents, in a perfect world we would be able to back up our SMS text messages, and keep them safe in a different format. Well now, we can.
iPhone SMS Transfer is a wonderful new program that allows its users to transfer their text messages to their computer as either a text file, an HTML file, or a MHT file – the choice is yours. You can then save these files on an external hard drive if you want to, to keep them save. You can also print them, just like you would an email. Once you have transferred the text messages to your computer, they are saved and backed up, just like any other important file that you never want to lose. See how it works!
Why Should I get iPhone SMS Transfer Program?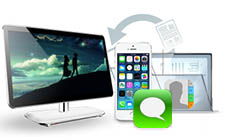 The ability to transfer iPhone text messages to computer is a brilliant way of ensuring that important information can never become lost. Whether it is financial information from a family member, or the address of someone that you need to visit, the chance to save iPhone text messages to computer is the perfect way to ensure that that information never goes astray. This is also vital if you do not want that information to remain on your phone, where anyone could read it, but you still need to keep the message somewhere. Where better than on your own home computer?
| | |
| --- | --- |
| | |
The iPhone SMS Transfer program is also perfect for people with very important photos or videos on their iPhone. We often see stories in the news of people devastated by the loss of their smart phone, not because of the phone itself, but because of all the memories that were on that piece of technology – and they did not save those memories anywhere else. That means that they are lost forever. As we go through life, we take photos and videos of our favourite and most important moments, and it would be tragic to lose them. But with the iPhone SMS Transfer program, it is possible to transfer all of your photos and videos onto your computer, keeping them safe and out of harm's way. This means that you will never have to worry about losing that photo of your first date, or the video of your daughter's birthday party.
The technology of the iPhone SMS Transfer program is excellent, allowing a swift and easy transfer from your iPhone to any computer device. That means that you can save iPhone SMS messages to Mac just as much as you can to a PC. The program does not really distinguish between them, making this program perfect for everyone. It is simple and easy to use, so that everyone that wants to can take advantage of this wonderful piece of technology. What's more, this great program is also compatible with the iPod Touch and the iPad.
Notable Key Features of the Program
Transfer iPhone Text Messages/iMessages to Computer in a Variety of Formats
You will be able to transfer your iPhone SMS messages and also iMessages in a variety of formats, including html, PDF, Word, txt, and moret.
Print iPhone Text Messages
You will be able to print your SMS messages directly from your PC or Mac.
Password Protect Your SMS Messages
You will be able to password protect your SMS messages.
Support Several iOS Devices
This program is fully compatible with iPhone, iPad and iPod Touch.
Support Devices Running on Latest iOS 9
This program supports all the devices running on latest iOS 9 (also compatible with iOS 5/6/7/8).
Sort iPhone Text Messages and iMessages
You will be able to sort through your SMS messages, organising them how you would like.
Minimum System Requirements
| | |
| --- | --- |
| OS (64&32 bits) | Windows XP (SP2 or later), Windows Vista, Windows 7, Windows 8, Windows 8.1, Windows 10 |
| Processor | 1 GHz (32 bit or 64 bit) |
| Free HD Space | 1 GB or more disk space for installation |
| RAM | 256 MB or more |
| iTunes | iTunes 11.0 or later |